[vc_row][vc_column][vc_column_text]Angela Bandiniis known as the "queen of the deep" for good reason: on the 3rd October 1989 she broke all the rules and followed her own instincts to smash all freediving records at once.
From first swims to freediving
Angela began swimming with dolphins in the Dolphinarium of her native Rimini when she was just 14."We used to swim in perfect harmony.I understood them and they understood me," she explains.Her passion for those divesbrought her into contact with her first coach, the world freediving champion Jacques Mayol.
They began to travel the oceans of the world together,exploring some of the most remote dive sites of Australia and New Zealand.Mayol taught her the techniques of freediving,but Angela soon revolutionised them. "When I was swimming with dolphins, I learned how they took in air then dived quickly and danced around on the bottom".She then acquired the techniques of Indonesia's pearl fishers and the sponge gatherers of the Sea of Japan who dive without compensating.
The first ballasted dive of 40 metres
The first time she used fifty kilograms of ballast, Angela descended 40 metres, twice the depth agreed.Returning to the surface without any trouble at all, she knew she could easily go deeper.After five years of training and meditation, she attempted the unthinkable feat of breaking all existing freediving records.And she succeeded, the only woman in the world to beat even the men's record in a sport.
Angela Bandini's record
For Angela, freediving is not just a sport; it represents the extreme limit of her life.Between the islands of Elba and Montecristo, she took 55 seconds to descend 111 metres (later homologated at 107), breaking Mayol's record by two metres and that of Maiorca by six.
That day became a watershed in the history of freediving.Angela Bandini smashed not only the record but also the prejudice that freediving was a sport for men only.Her courage broke all the rules.
 "When you reach 50 metres and carry on down, the surface world gets shut out and the world of the deep opens up as a new dimension."At that depth, pressure on the body rises to 12 kilograms per square centimetre."I went against all the scientific theories of freediving,all the manuals,all the research financed by powerful sponsors.I showed the world what the power of the mind can do even in a small body – just 1 metre 60 and 48 kilos – if you have dolphins as teachers."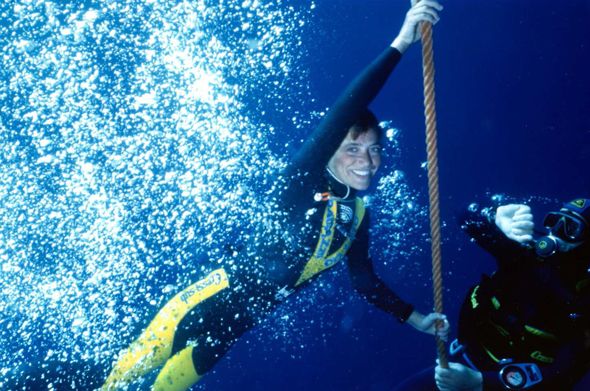 [/vc_column_text][/vc_column][/vc_row][vc_row][vc_column][vc_separator][vc_column_text]
Potrebbe interessarti
[/vc_column_text][vc_masonry_grid post_type="post" max_items="3″ item="71″ grid_id="vc_gid:1531812229004-a7fe2b12-c9a8-5″][/vc_column][/vc_row][vc_row][vc_column][vc_column_text]
[/vc_column_text][/vc_column][/vc_row]