Everybody knows him as Tazio il biondo, but as soon as his feet leave the ground he turns into the record-breaking "Italian Butterfly", a Tarzan-like figure among the ropes of the Jungle or a realistic Spiderman dressed in a Marvel costume, leaping over the heads of the young patients in the paediatric oncology department of Modena hospital.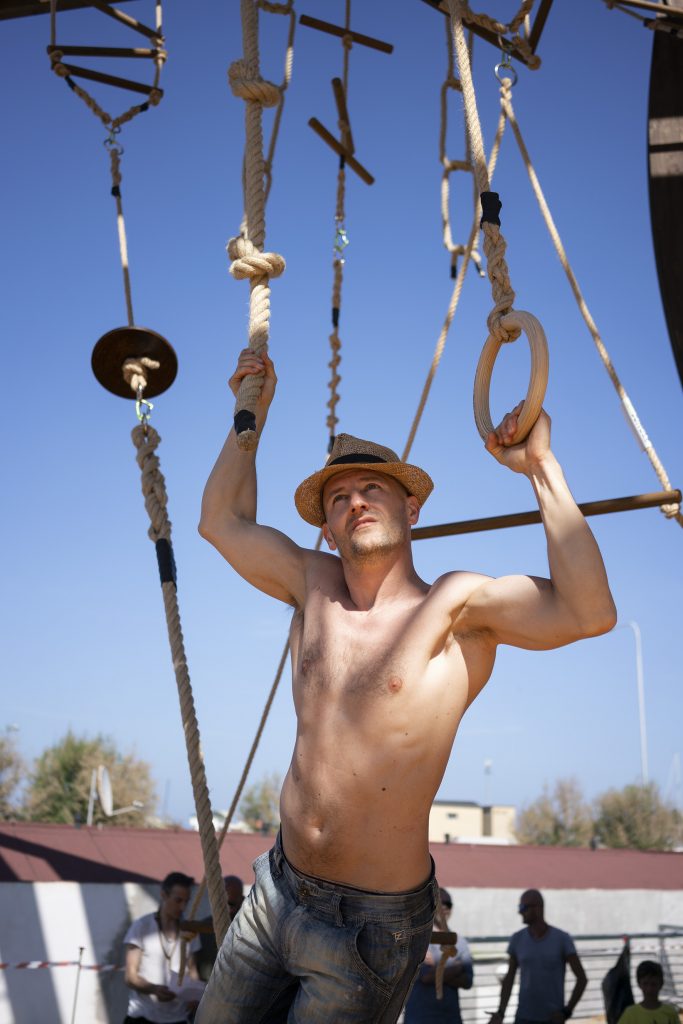 "I discovered the thrill of heights with my father. When I was 17, he took me climbing with him in the Apennine mountains," Tazio explains, looking just as comfortable seated on a tightrope as in an armchair."What struck me most that first day was not so much the physical experience but the sensation of total freedom I felt hanging in the void."
That day, Tazio, now a carpenter by profession, discovered that life was much better above the ground. He immediately began climbing everything around him, finding the freedom of his instincts in a return to his origins.
In Beijing he set a new Guinness World Record for one-arm climbing, and also set a new world record for "salmon ladder" climbing with a bar. In Shanghai he broke the record for the number of pull-ups completed in one minute.Tazio's feats have been broadcast on television in countries around the world and his training videos have registered millions of hits.Despite all this, Tazio il biondo has never lost the sincerity that propels him upwards: he still recalls as one of his most thrilling adventures the show he put on in 2014 in his home town of Cavezzo (population seven thousand, a few kilometres outside Modena).Under the disbelieving eyes of his family, he climbed a 25-metre-tall crane, then with the lightness of a butterfly swung out along the 30-metre steel jib that extended over the houses below.
"Lightness, strength and eleganceare what I feel when I'm hanging there", he explains, adding that his greatest satisfaction is to prove that super-heroes really exist, in the form of anybody determined to exceed their limits on a daily basis.
The same kind of reasoning has also convinced Tazio il biondo to set out on a new adventure with JungleUp in Pesaro, where he will help train anybody ready to accept a new challenge.