Tim Smit grew a tropical forest in windy Cornwall, covered by a system of enormous domes with foundations built on conviction, and baptised it "the Eden Project".
Two million plants live enclosed in a structure built of traceable and sustainable materials, self-sufficient in energy and water.The floors are made from flax and maize and the walls covered in recycled Heineken beer bottles. A system of overhead walkways gives visitors an eagle's eye view of the splendours of the forest below.
 "If you go into a school and ask kids what they want to do when they grow up, most of them will say something like astronaut, doctor or policeman.But these are ambitions rather than visions.The visionary has a conviction that forces him to risk everything in life."These are the words of Tim Smit, an Englishman of Dutch origin who has become one of the UK's most popular figures by following his dream.The architect Nicolas Grimshaw has defined Smit as an evangelist, somebody others follow as a prophet and the press hails enthusiastically.
"I created the world's biggest biospheres partly to demonstrate the beauty of nature and to protect our planet's biodiversity, but also to prove that nothing is impossible," explains Tim as he strolls between the palms of his forest, which attracts a million visitors every year.A graduate in archaeology and anthropology from London University, Tim lives the life of a pioneer, guided by instincts and smiled upon by fate.
In his student days he used to play in a rock band."We were one of the greatest disaster stories in the history of rock," he recounts, smiling. Needing a way to earn some money, he got a job as an assistant in the famous Abbey Road recording studios."My boss always said the equipment needed to be exploited to the full", he recalls. So, in the same studios graced by the Beatles and Pink Floyd, Tim used to compose his own music in the evening after work. Eventually, in a twist of destiny, one of his songs was picked up by a famous singer and became a hit.It was 1982 when his song Midnight Bluereached the top of the charts and opened up a new career for him as a record producer."An intro, two verses and a chorus.Commercial music had to follow strict formulae back then. There was no opportunity for personal expression.That's why I began to hate the music business," he says, explaining that after a few years at the top he began to feel exhausted. The time had come to make a change.
Leaving the centre of London, he drove down to Cornwall and there, under the rain that drenches the Atlantic-facing cliffs, he learned to breathe again.He saw a house he liked, passed a whole day walking around it then spent all his money to buy it on the next.
"There was absolutely no reason for me to buy it and that's exactly why I didn't hesitate.If you need to start again, you've got to start from a clean sheet," he points out with the passion of challenge in his eyes.In those cold, windswept hills, Tim discovered the true beauty of nature, and was disgusted to see how man had left deep scars in the local landscape to extract kaolin, only to abandon the quarries in pursuit of bankrupt economics.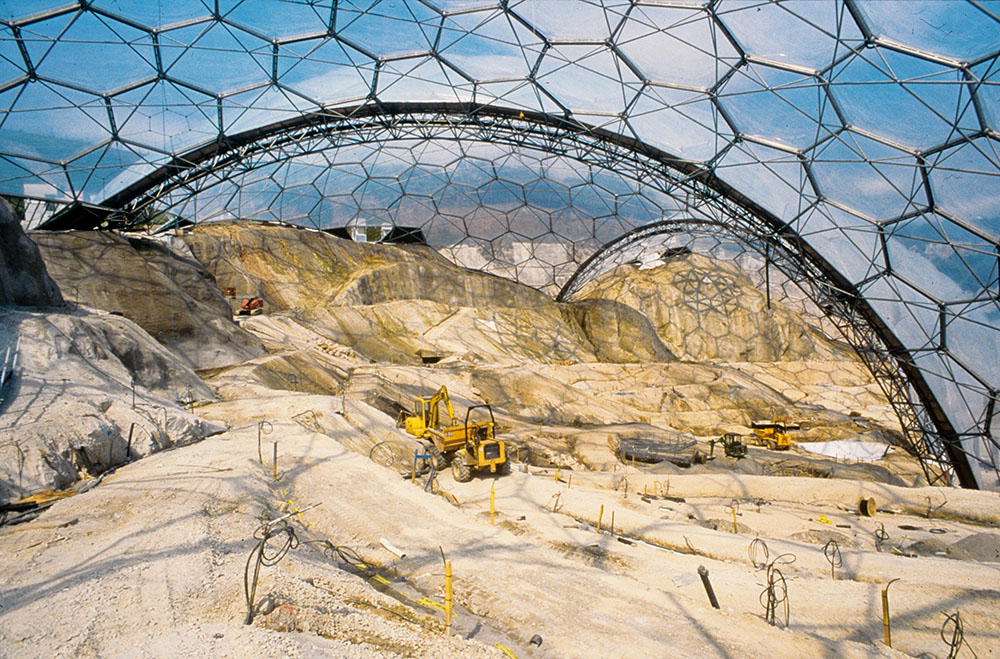 It was the end of the old millennium, and the first climate protocol had just been signed in Kyoto when Tim Smit stood on the edge of an old open-cast mine and understood that his destiny lay before him.He was going to grow a tropical forest on that sterile wasteland of rock to show the world that life can triumph against all odds.
 "It's bit like Peter Pan.If they are to fly, men need a story they can believe in.And my story was so attractive that it convinced the banks and the local population to follow the project," Tim continues, relating how he achieved a consensus between the bureaucrats and the technical personnel who agreed to work for nothing to turn his dream into reality.
"The Eden Project is a monument to everybody who wants to believe in something," Tim Smit declares. Today, construction work on a new Eden is under way in the Chinese city of Qingdao.This new project is located in a depressed area scarred by salt mining and intensive prawn farming.Tim assures us that, while the new Eden will not be a copy of the first, it will certainly grow with the same spirit."Everybody in China is aware of the environmental disasters committed in the past, and today's young people are demanding a better world.Our job is to conduct this symphony of sentiment as it rises from the roots," Tim explains. Unperturbed by an estimated cost of one hundred million pounds sterling for the Chinese project, Tim is already dreaming of constructing other biospheres on the coast of Tasmania to safeguard the Antarctic ecosystem.
"We want to protect nature and show other people how beautiful it is.And just for a challenge, we're going to create something a bit rock'n'roll," Tim Smit concludes, with the pride of a musician on stage basking in the applause of his public.
To learn more about the Eden Project, visit:www.edenproject.com